Strategic Project Solutions | RA7
Fraud hurts. Time to fight back.
KNOW YOUR FRAUD – STOP FRAUD STARTING TODAY.
RA7 system for risk assessment detects in insurance claim calls the unique vocal characteristics that may indicate a high probability of fraud or concealment of information.
UNBIASED • INFORMING • PRECISE
RA7 solutions are designed as a combination of software elements and carefully designed conversation scripts made to cover each insurance case from all angles, measuring the claimant's emotional reactions and consistent indications for the list of relevant topics.
WHAT CAN RA7 DO FOR YOUR ORGANIZATION?
Identify fraudulent claims in real-time with 100% claims coverage
See significant results and savings from day one
Get a realistic picture of the current level of fraud
Improve negotiation methods for small and medium size claims
Identify and serve your honest clients faster at their time of real need
THE RA7 FRAUD DETECTION ANALYSIS PROCESS
Should the RA7 analysis identify a topic which carries a significant emotional load and repeating risk indications, it will be flagged for deeper investigation. This way, through a simple phone call all incoming claims can be screened in real-time for potential fraud, with no additional burden on the existing process – and effectively prepare the grounds for a deeper investigation should there be a need for it.
RA7 is installed on claim handlers' PCs, and connects the PC to the phone using Strategic Project Solutions' special phone connector or VoIP interface.
The entire analysis process is done on the agent's PC, saving resources and keeping all the private data behind your organization firewall. Reports are logged in the organization's internal server for maximum security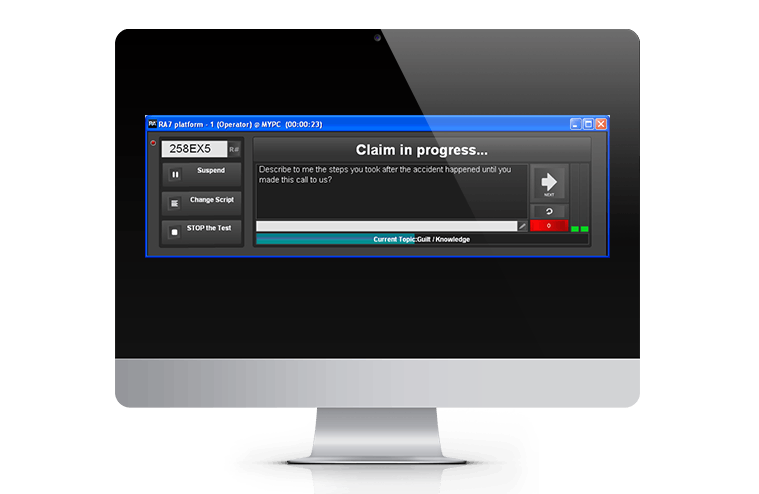 3 POWERFUL REASONS WHY RA7 SYSTEM WAS DESIGNED FOR
INCREASE FRAUD DETECTION RATES
Significantly increase your organization's fraud detection rates
IMPROVE CUSTOMER SERVICE
Improve your customer service and speed up claims settlement time
STREAMLINE & STANDARDIZE
Optimize your risk detection, investigation and settlement processes
RA7 USING THIRD PARTY SERVICES
Operating Risk Management services with RA7
Strategic Project Solutions cooperates with professional 3rd parties dedicated service centers, easing the RA7 integration into your claim processing system. Please contact us to learn more about this venue and its availability in your territory, or if you wish to operate a Strategic Project Solutions service center in your region.
Embedding RA7 processes internally:
Phase 1: The call center agents use tailored conversation scripts for each type of claim.
Phase 2: Claims manager quickly identifies claims with repeating risk indications and clears quickly Low Risk clients for payment.
Phase 3: The special investigations unit (SIU) follows the leads detected in the first call & investigation quality improves: Less irrelevant cases to follow / Investigators can conduct telephone interviews with RA7 online analysis, saving expensive time and resources.
Strategic Project Solutions is looking for new professional partners to grow our network of service centers around the world. If you would like to join us, please send your company profile to info@strategicproject.co.uk and we will be happy to evaluate your request!